Q+A with Terry Lee Stone, Co-Author of "Booze Cakes: Confections Spiked with Spirits, Wine, and Beer"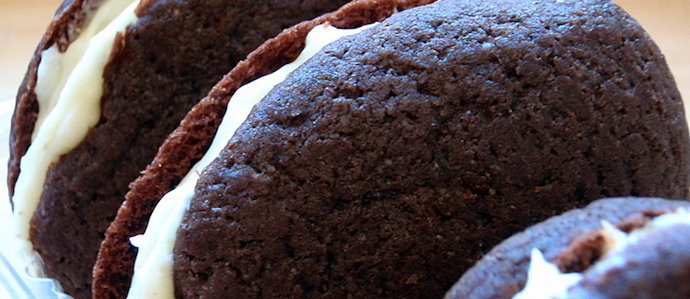 Going to a Super Bowl party? Be the best guest by bringing Rum and Coke Whoopie Pies or Honey Spice Beer Cake bites. Want to make something extra-special this Valentine's Day? How about a Pink Champagne Cake for your sweetheart or a Tipsy Tiramisu just for you? Wondering just how much liquor you can cram into a cupcake? Find the answer to that, and the recipes for the above and more, in your next favorite cookbook, Booze Cakes: Confections Spiked with Spirits, Wine, and Beer
.
Quirk Books, the Philadelphia-based independent book publisher (think Pride and Prejudice and Zombies), gave authors Terry Lee Stone and Krystina Castella a showcase in print for educating us on baking with alcohol, and easy recipes for making classic and new "confections spiked with spirits, wine, and beer." The Drink Nation kitchen tested several of these with great success, so we reached-out to Stone to learn more: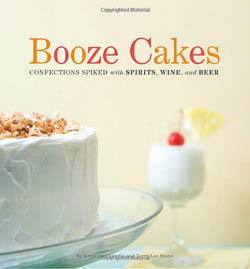 This is your first cookbook! What inspired you to write it?
My co-author [Krystina Castella, author of Crazy About Cupcakes] and I were both teaching at Art Center College of Design in Pasadena, CA. She was a consistent guest lecturer in my class, and after several terms of hearing her talk about her cool cookbook projects, I knew I wanted to work with her.
One night, while making my mom's 1970s-era Harvey Wallbanger Cake, it hit me that the world really needed a renaissance in boozy baking, and I knew Krystina and I were just the people to kick it off with a book.
The recipes are creative, and accessible to even beginner bakers. How did you develop them?
One of the interesting things about our development process was that we linked-up new combinations of alcohol type + baking style + physical structure of the cakes. Since we're both designers and very visual people, Krystina and I sort of instinctively combined tastes and shapes first. We created an outline for the book including the chapter topics and then had frequent meetings to brainstorm recipe ideas. Then we each had our "To-Do List" in terms of developing the cakes. When we swapped recipes, I think it really inspired us to push our ideas further. It was always a bit of a surprise to see how the other person took the concept and ran with it. Very fun.
Baking is science! How did you know which booze to choose?
Some of these are classic combinations, like a tropical Piña Colada Cake, Mint Julep Cupcakes made with Kentucky bourbon, and creamy, chocolatey Rum-and-Coke Whoopie Pies. Others were completely new mash-ups that sprung from asking the question, "What if?" That's how we ended-up creating a Jägermeister-powered Deutsch German Chocolate Cake and our decadent Shamelessly Rich Carrot Cake infused with 151-proof rum.
But you're right, baking is a science and sometimes we didn't quite get it right the first time. I remember an early incarnation of the Amaretto Almond Delight Cake that was a soggy soggy mess. It tasted great, but looked pitiful.
Because the name of the book is Booze Cakes, we wanted to make sure that some of the cakes unquestionably tasted like alcohol. None more so than our Long Island Ice Tea Cakes, which has won several contests as the booziest of the booze cakes. The secret there is putting the alcohol in the cake and then letting the cake bites cool in a bath of alcohol soaking sauce. That's how to really taste the booze. By the way, featured throughout the book are tips and tricks on baking with alcohol and a handy "Booze Meter" that tracks the total alcohol content in each dessert.
Would we find Baker and Mixologist on your resume?
In a word: no. I'm really just a designer/writer who loves to cook. Initially, I learned baking from my mother and Betty Crocker's New Cookbook For Boys and Girls, a seminal work, right? From there, I indulged my sweet tooth and refined my skills by reading many books, practicing, and lots and lots of trial and error! Happily, even my mistakes and cake wrecks are usually pretty yummy. My philosophy is basically: "Have fun, it's just cake." As to mixology, I am a fan, not a serious practitioner. I like to keep up on trends and absolutely enjoy an adult beverage or two.
Speaking of which, what is your adult beverage of choice?
Living in California, I'm partial to drinking wine. (You may have heard that California wines are amazing.) Luckily, a few of my good friends dabble in mixology and come up with fun cocktails for our various dinner parties. I did make a Caribbean-style Patio Punch last Summer that resulted in hijinx in my suburban Los Angeles backyard. That recipe is definitely a keeper.
Which is your favorite recipe in the book?
The Harvey Wallbanger Cake is my personal favorite. Dead easy and always delicious. It has been interesting to see which of the recipes got the most traction with the public. The recipes that have been written about over and over are: Honey Spice Beer Cake, Pink Champagne Cake, Tequila Sunrise Cake, Brandy Apple Chai Cake and the Wine-Tasting Cakes.
Were there any that seemed like a good idea, but just didn't work?
I tried like crazy to get an anisette sponge cake to consistently work well and never could. Oh well. The one that got away.
What didn't make the final cut?
Mainly sidebars of booze-related trivia and recipes for homemade versions of some of the ingredients in our cakes, like cajeta (a thick Mexican caramel used in our Mexican Chocolate Cakes) and sour cherries (a wonderful garnish for our Black Forest Cupcakes).
Do you have any other booze books on the way?
Not at this time, but I would definitely be interested in working on other cookbooks, especially with recipes using booze. We all have to eat. Let's make it more fun, right?
Photo Credit: Flickr user Joyosity
Tags:
Beer
,
Bourbon
,
Cocktails
,
Education
,
Holiday
,
Parties
,
Spirits
,
Wine
Recent Articles

Feedback
How are we doing? Tell us what you like or don't like and how we can improve. We would love to hear your thoughts!