14 Things We're Excited to See Coming Up This Spring in DC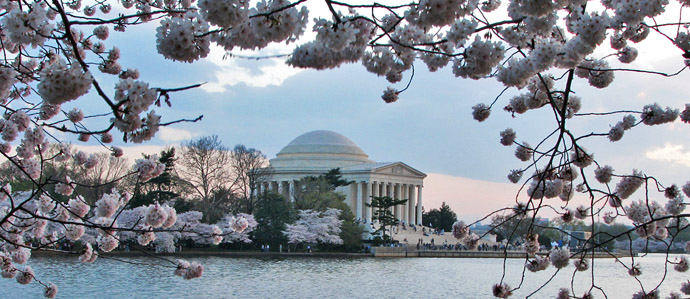 Even though temperatures are still prone to taking a dip toward near freezing and it seems like yesterday was the one millionth federal snow day of 2014, spring is actually here. It's time to get excited for the changing of the seasons—a few weeks from now when you're sipping your cherry blossom martini on a roof deck, the long DC winter will be a faint memory. Here's what to get excited about:
Where to Fest
The DC Beer Festival:
Saturday, April 12, 1–4 PM and 6–9 PM
This epic celebration of beer returns to Nationals Stadium for the second year. One ticket gets you a tiny mug and unlimited opportunities to fill it from 87 (so far) different brewers. A good mix of local favorites (DC Brau, 3 Stars) and rarely-seen-in-the District West Coast brews (No-Li, Spokane, WA; Iron Fist, Vista, CA). (Nationals Park, 1500 S Capitol St SE)
SAVOR: An American Craft Beer and Food Experience
May 9-10, 7:30–11 PM
If you like your craft beer paired with craft food, SAVOR returns to the Building Museum for two days of tasting sessions. Selections from over 70 small craft breweries will be paired with delectable appetizers from local chefs. The Washington Post deemed this event an absolute must for beer geeks, so look for rare brews like Elysian from Seattle and Cigar City from Tampa. The best part is that guests can mingle with the brewers and brewery owners. (National Building Museum, 401 F St NW)
Tour de Fat
Sat., May 31
New Belgium Brewery's traveling celebration of "Bikes, Beer and Bemusement" returns to Navy Yard for more shenanigans. Last year's event featured a bike parade, storytelling, wacky costumes, performance art, live music, food trucks and of course lots of beer. Expect to find perennial favorite Fat Tire Amber Ale (5.2% ABV) and the new seasonal Spring Blonde—a golden ale with flavors of lemon peel, black pepper and cloves (6% ABV). (The Yards Park. 355 Water St SE)
What to Drink
Bluejacket Brewery: Reverie, a soft-bodied dry Saison. Brewers notes say it has aromas of fresh-cut flowers, lemon peel, grass clippings and sweet spice—everything nice about spring (8.0% ABV) (300 Tingey St SE; 202-524-4862)
Right Proper Brewing Company: Bière de Mars, a farmhouse ale brewed as a tribute to the month of March. (624 T St NW; 202-607-2337)
DC Brau: Just released its limited edition DC United beer, The Tradition. Named by the soccer team's fans, look for the "Vamos United" stamp on the bottom of each can. (3178 Bladensburg Rd NE; 202-621-8890)
What's New, What's Coming and What to Get Excited About
China Chilcano: One of the season's most anticipated openings, China Chilcano is the newest outpost in the Jose Andres restaurant empire. Though it may seem like the last thing Penn Quarter needs is another Andres tapas place, it focuses on Chifa cuisine — the mashup of Chinese and Peruvian flavors promises to be an exciting and truly unique addition to the scene. Andres hasn't released the menu yet, but if his Chinese-Mexican restaurant in Las Vegas, China Poblano, is any indication, expect cocktails like the Matcha-rita (tequila, green tea and lime) and La Poderosa (rum, tequila reposado and Szechuan peppercorn). Opening spring 2014, at 418 7th St. NW.
Maketto: Erik Bruner-Yang (Toki Underground) and Durkl's Will Sharp are almost ready to open their new restaurant featuring a westernized take on street food from Taiwan and Cambodia. Diners got to preview their work at a pop-up in the old Hanoi House space (now Den of Thieves) and were treated to Southeast Asian inspired cocktails like the Dau Phong (peanut rye, basil syrup, lime, sriracha) and Silk Road (tea, ginger, vanilla, tamarind, coconut milk, aged rum). Eventually the space will host a coffee bar and clothing retailer. Opening spring 2014 at 1351 H St. NE.
Brookland's Finest: If you're looking for something less conceptual , look no further than Brookland's Finest, a new neighborhood bar created by three men who know a thing or two about good neighborhood bars: Frank Hankins (SOVA wine bar) Tony Tomelden (The Pug) and John Solomon (Solly's Tavern). The new place aims to be a family-friend place with American comfort food and a 25 seat outdoor patio with a garage door. Opening spring 2014 at 12th and Jackson St NE.
Seven Faces Barroom: Another neighborhood bar brought to you by DC bar royalty: this old storefront in Columbia Heights is a collaboration between Patrick Owens (formerly of American Ice Co, now at Ripple), Owen Thomson (formerly of Range, now at Bar Pilar) and Ashley May (Velvet Lounge). Details are scarce but the owners say the bar will be a laid back, full-service tavern with a sidewalk patio. Opening early summer 2014 at 251 Florida Ave NW.
And of course it wouldn't be spring without the return of DC's best outdoor beer gardens: Garden District, Dacha Beer Garden and Bardo have all reopened and Hill Country's Backyard Barbeque at the Building Museum returns May 1.
Photo: Flickr user terren in Virginia
Tags:
Beer
,
Cocktails
,
Dinner
,
Festival
,
Food
,
Spirits
Recent Articles

Feedback
How are we doing? Tell us what you like or don't like and how we can improve. We would love to hear your thoughts!