Bars That Rock: Where to Grab a Drink and Enjoy Live Music in Washington, D.C.
by
Mara Kurlandsky
on Apr 15, 2014 in
Roundups
for
9:30 Club Backbar
,
Black Cat
,
Bohemian Caverns
,
DC9
,
Hamilton, The
,
Madam's Organ Blues Bar
,
Rock & Roll Hotel
,
Star & Shamrock
,
Wonderland Ballroom, The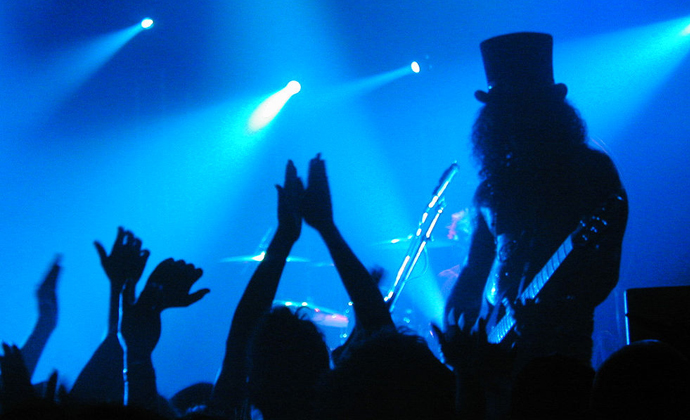 Music and drinking just go together – why not? They're two of the best things on the planet. So it's only natural to find places that excel at both. If you're looking for an amazing night out, we've rounded up the best bars to hear live music and the best venues with great drinks.

9:30 Club
One of DC's best music venues, this cavern-like space (pictured above) has a huge dance floor and hosts some of the biggest names in music—upcoming shows include the Alabama Shakes, CHVRCHES, and Haim. The four bars inside have an unusually diverse selection of craft beers for a music venue – the rotating draft menu includes Abita, Clipper City, Devil's Backbone and Starr Hill. Where else are you going to rock out to 90s dance music while sipping on Old Rasputin Russian Imperial Stout? (815 V St., NW; 202-265-0930)

Acre 121
If you ever find yourself longing for some southern hospitality, Acre 21 is a great place to while away a hot summer night with live music and a Shinerbock. A mix of bluegrass, folk and alt-country bands play nearly every night so come for happy hour and unwind before the show with $5 drafts, wine and well drinks ( 5-7 PM). The bar also offers a small but tasty cocktail menu—neighborhood patrons will want to try the PoPville Bang with Bird Dog whiskey, named after the popular log blog Prince of Petworth. (1400 Irving St NW; 202-328-0121)

Black Cat
Black Cat is not only one of the best places to catch underground and up-and-coming acts, its dark and cozy Red Room is one of the city's best dive bars. There's never a cover to hang out at the bar, which has a great selection of craft beers and bourbon. Bigger shows play the upstairs Mainstage; catch smaller (and cheaper) shows in the intimate Backstage room right off the Red Room Bar. (1811 14th St, NW; 202-667-7960)

Solly's Tavern
For a low-key, no-pretension evening, look no further than U St. fixture Solly's, where you can find free live music on Thursday and Sunday nights. Happy hour runs till 8pm every day with $5 DC Brau, $3 Bud and Miller Lite and $5 Jack Daniels. And of course, the PBR's are always $3 no matter what time you show up. (1942 11th St NW; 202-232-6590)

DC9
Billing itself as the bar with "Music for the 21st Century," this popular U St. bar has a diverse music schedule, including everything from rock, punk, indie and electronic dance parties. The upstairs bar seems small but can hold 200 people and is one of the best places in the city to dance and drink on the cheap: Vodka and whiskey are $2 from 9-11 PM, and Natty Boh is always available. (1940 Ninth St NW; 202-483-5000)

Dogfish Head Alehouse
Every Saturday and most Thursdays, you can enjoy live music at each of the three Dogfish Head Brewery's Alehouses. Owners describe their featured bands as "local, original and somewhat off-beat." The music tends to skew towards indie and blues – the perfect tunes to accompany the famous 90 Minute IPA, the refreshing Belgian style Namaste, or their seasonal spring brew, Aprihop, an IPA brewed with apricots. (Locations in Gaithersburg, Falls Church and Fairfax)

Madam's Organ
Local landmark Madam's Organ is in Adam's Morgan (get it?) and is always a popular spot for live blues and bluegrass. Regular weekly artists guarantee you'll never want for the music you're looking for: Monday's are funk & reggae, Tuesdays are R&B, Wednesday country and Thursdays are Cuban, Brazilian and salsa. Happy hour offers half off drinks and rumor has it redheads always get half price drinks. Drink promoters often come by for sampling, the last time this writer spent a night at the Madam's, free Budweiser Limearitas were flowing all night. (2461 18th St NW; 202-667-5370)

Star and Shamrock
Cultures clash (or live in harmony, really) at this H St Bar mashes Irish and Jewish culture into a delicious and fun mix. You can catch Irish and American folk bands as well as the occasional Klezmer group. The drink menu is huge and reflects the bars two influences: Drafts of Kilkenny Irish Cream and Guinness are pulled next to He'Brew Hop Manna IPA. Or try one of their signature cocktails like the Dirty Pickletini (irish vodka, vermouth and kosher dill pickle brine). Just don't forget to place your order for matzo ball soup before band starts up. (1341 H St NE; 202-388-3833)

DC is a great place for live music, and a great place for drinking. There's just too many places to list so make sure to check out these bars too: Bohemian Caverns, Hill Country Live, Gypsy Sallys, Quarry House Tavern, Quill at the Jefferson, Rock & Roll Hotel, The Hamilton, The Looking Glass Lounge, The Pinch, Twins Jazz, Wonderland Ballroom
Photo: 9:30 Club by Flickr user boboroshi
Tags:
Beer
,
Cocktails
,
Music
,
Spirits
,
Wine
Recent Articles

Feedback
How are we doing? Tell us what you like or don't like and how we can improve. We would love to hear your thoughts!