Washington D.C.'s Best Drinks for Sharing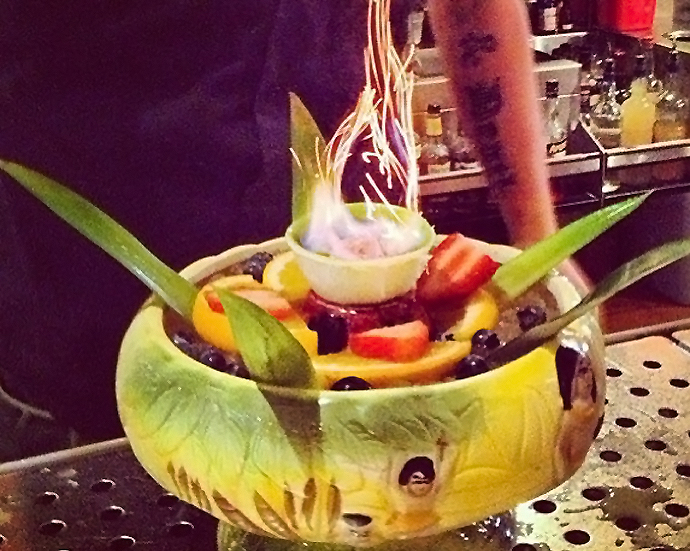 You've spent all winter hibernating and spending time with your soulmate: Netflix. But the weather is warming up rapidly and it's time to reacquaint yourself with your real-life pals. What better way to bring the gang back together than sharing a big ole drink? These cocktails serve between two and ten people and are sure to ignite some boozy camaraderie (no really, some of these cocktails are on fire). Just be sure to bring lots of friends - these are not to be enjoyed alone!
Soi 38: This highly anticipated homage to Bangkok street food opened just a few weeks ago with a stunning interior evoking a chic take on Thai night markets. For the most refined way to share your whiskey, order the Emperor's Punch: served in a delicate teapot, this spicy sweet cocktail mixes monkey shoulder whiskey with fresh lemon, housemade tamarind syrup, Thai herbal tea, chili aromatic bitters. Serves two to four. (2101 L St NW; 202-558-9215)
Bangkok One: If you want the flavors of Thailand but also need to get a group drunk on the cheap, the swimming pool-size Flaming Volcano is your best bet. It's under $10 and this classic mix of rum, brandy, pineapple, and orange juice is sure to please the crowd: it comes with a flaming lemon afloat. (1411 K St NW; 202-393-6277)
Roofers Union: There's no better place to while away the summertime than on a sweet rooftop with your friends, and this Adams Morgan newcomer wants you to share. The menu has a dedicated "For the Table" section - you and your gang can share carafes of champagne, wine or cider, or share a punch bowl like the "Lei Me Down," a perfect summer evening cocktail made with with bourbon, dark rum, green tea, lemongrass, ginger, pineapple, mandarin and lemon. (2446 18th St NW, 202-232-7663)
Urban Butcher: A foodie's paradise, this charcuterie on Georgia Avenue serves up house-cured meats, artisanal cheeses, and a rotating punch bowl that changes every season. The winter bourbon punch has gotten rave reviews so can't wait for their summer mix (8226 Georgia Ave, Silver Spring MD; 301-585-5800)
Farmers, Fishers, Bakers: We've sung the praises of the Georgetown waterfront's scorpion bowl before - and it's still amazing. Try the zombie punch too - the "Circa 1934" is a heady mix of three different rums, house-made falernum, grapefruit juice, lime juice, house-made grenadine, and absinthe. It's so strong that the bar limits each guest to just two glasses - surely to keep patrons from mistaking the Potomac for their next round of punch. (3000 K Street NW; 202-298-8783)
Hank's Oyster Bar & Lounge: Though Hank's has a few locations in the area, if you're looking to share you'll want to head to the Dupont outpost, where your half shells can be accompanied by the "Church Lady" punch bowl: vodka, sparkling wine, fresh fruit, and sherbet. "Megan's Choice" punch changes regularly and both can be ordered for groups of up to 10 people. (1624 Q Street NW: 202-462-HANK)
Teddy & The Bully Bar: Named for the swaggering 26th president, this lower Dupont bar serves up sophisticated versions of America's classic cocktails. Try the "Roosevelt Island" or the "Safari Sangria," made with Veev Acai, vinho verde, sage, apple, grapefruit, chinese spice bitters, and a sweet lime foam. Speak softly and carry a big...punch bowl? (1200 19th St. NW; 202-872-8700)
A Bar + Kitchen: The daily rotating punch bowls here are sweet like honey and sting like a bee. They are delivered to your table, so you have the option to dive right in or rope-a-dope the concoction. There will be a new mixture every day, so no bout will be the same. (2500 Pennsylvania Ave. NW; 202-464-5610)
Photo: Courtesy of Farmers, Fishers, Bakers
Tags:
Cocktails
,
Spirits
Recent Articles

Feedback
How are we doing? Tell us what you like or don't like and how we can improve. We would love to hear your thoughts!