D.C.'s Best Boozy Milkshakes and Other Frozen Drinks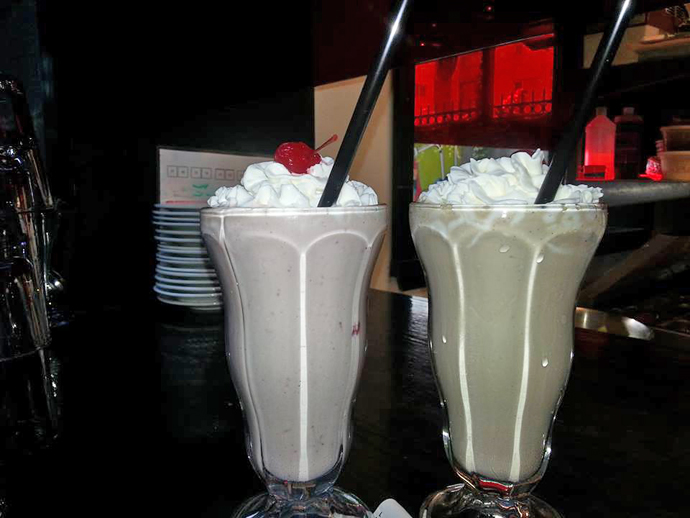 You might think of a milkshake as a classic kid's drink, with the spiked "adult" versions only a recent innovation. But if you delve into the history books, milkshakes were boozy from the start—when milkshakes were first mentioned in print, they were described as a "sturdy, healthful eggnog type of drink, with eggs, whiskey, etc., served as a tonic as well as a treat." It was only in the 1900s that changing morals made milkshakes into the wholesome drinks we know and love.
Since the weather is rapidly heating up, we here at Drink D.C. say it's time to go back to our roots—could there be a better tonic to the hot and hazy days of summer than an ice-cold, slushy, milky, and deliciously alcoholic milkshake? We think not. Check out our slide show of the best boozy milkshakes and frozen drinks in D.C.
Bobby's Burger Palace: Celebrity chef Bobby Flay offers up three different spiked milkshakes at his classic burger joint: Vanilla Caramel Bourbon, Pineapple Coconut Rum, and Mocha Kahlua Vodka. (2121 K St. NW; 202-974-6260)
Bar Pilar: This off-menu treat, the Cuba Libre Float, features rum, Mexican Coke and vanilla gelato, served up in a Coke bottle and topped with whipped cream and SoCo-soaked cherries. (1833 14th Street NW; 202-265-1751)
The Satellite Room: Satellite Room is a longtime favorite of music fans coming to check out a show at 9:30 Club, as well fans of boozed-up frosty treats—the kitschy bar has 10 different kinds of spiked milkshakes. Try the classic Vincent Vega, vanilla with bulleit bourbon, or more adventurous mixes like the Linus Van Pelt (peanut butter with Tennessee whiskey) or the A.C. Slater (avocado with Jose Cuervo). (2047 9th St. NW; 202-506-2496)
Ted's Bulletin: Ted's Bulletin is another long-time favorite for fans of cold and creamy spirits. It's almost impossible to chose: Dirty Girl Scout (peppermint schnapps) or Grasshopper (Kahlua and creme de menthe)? Buzzed Berries (raspberry schnapps and rum) or Nutty Professor (hazelnut liqueur)?? No matter what you go with, it's sure to be delicious. (505 8th St. SE; 202-544-8337 and 1818 14th St NW; 202-265-8337)
The Diner: Need your milkshake fix early? This Adams Morgan institution offers its boozy shakes starting at 10 AM. With flavors like the Vanilla S'Mores (marshmallow vodka, vanilla ice cream, graham crackers and chocolate syrup) and the Bacon Bourbon Float (Jim Beam, IBC root beer,vanilla ice cream, and bacon crumbles) you might be here till last call. (2453 18th St. NW; 202-232-8800)
Ice Cream Jubilee: Though it doesn't open in Navy Yard until July, this new ice cream joint is getting major buzz already. Washingtonian sampled the Dark and Stormy ice cream (a blend of dark rum, ginger beer, and lime) and declared it the Best Thing I Ate. Drop a scoop into your cocktail and you've got the perfect summer treat. (301 Water Street, SE; no phone yet)
Smashburger: For a grown-up take on a simple childhood favorite, head to this Dupont burger outpost for a hand-spun Guinness Float, made with Guinness Stout, vanilla ice cream, and chocolate bitters. (1739 Connecticut Ave NW; 202-459-4299)
The Hamilton: Forget your regular brunch cocktails and head to the Hamilton for some inspired boozy treats. Try the Grand Marnier Creamsicle, which is as delicious as it is pretty, or Bruléed S'more shake. (600 14th Street NW; 202-787-1000)
Burger Tap & Shake: Head to this Foggy Bottom eatery for some truly epic "Shaketails." The Apocalypto is a delicious take on everyone's favorite bar shot, with Fireball cinnamon whiskey, homemade marshmallows, and chocolate ice cream. If you're recovering from too much Fireball the night before, order the Evil Empire, a creamy mix of Red Wing coffee liqueur, vanilla bean vodka, and vanilla ice cream sure to set you right for the day. (2200 Pennsylvania Ave NW; 202-587-MALT)
Ritz Carlton: You don't have to head to a diner or burger joint for your frozen spirits. If you want to class it up, put on your Sunday best and head the Ritz Carlton for some of their alcoholic sno-cones, hand-poured over ice at your table in flavors like lemonade thyme, strawberry basil, and blueberry mojito. Order one or get the trio for the ultimate cool-down. (1150 22nd St NW; 202-835-0500)
Estadio: Just like with their Spanish tapas, Estadio gets creative with their drinks. Try one of their house "slushitos" in two flavors: a refreshing mix of cranberry, gin, anise and cava, or the sweet and spicy blend of ginger, bourbon, lager & brown sugar. (1520 14th St NW; 202-319-1404)
The Tombs: Usually known as the local watering hole for Georgetown Hoyas, the Tombs also offers up a decidedly non-divey Spiked Caramel Macchiato, made with Van Gogh Dutch caramel vodka, Stoli vanilla vodka, and mocha ice cream. Perfect for a well-deserved study break. (1226 36th St. NW; 202-337-6668)
Photo: The Satellite Room/Facebook
Tags:
Cocktails
,
Spirits
Recent Articles

Feedback
How are we doing? Tell us what you like or don't like and how we can improve. We would love to hear your thoughts!