Pick Six: Hair of the Dog New Year's Day Brunch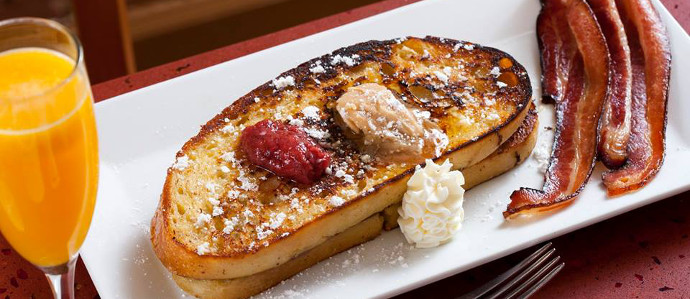 After the clock has struck midnight, the confetti has settled and the tell-tale signs of a hangover begin to creep in, push your New Year's resolution one more day and overload on carbs and indulge in bottomless drinks. Nothing gets you over the dreaded hangover than more champagne (but at least you're combining it with orange juice). Here's our Pick Six for where to brunch on the first day of 2015.
Cashion's Eat Place
10:30 AM–2:30 PM
Because what you really need after the biggest night of drinking is to attend a Bloody Mary Battle Brunch the morning after, head over to Cashion's Eat Place for the 2nd annual battle. A $30 ticket gets you any brunch item along with four Bloody Mary samples from participating contestants. Make sure to get your vote in, as the winner will be announced at the end of brunch service and will become Cashion's 2015 House Bloody Mary. (1819 Columbia Rd., NW; 202-797-1819)
Dino's Grotto
Noon–4 PM
For $27, order from the bottomless brunch menu or the aptly named "Hangover Brunch" menu, the latter of which is only available at the Grotto bar (includes two cocktails, a starter and a main dish). The regular bottomless brunch features your choice of a starter and a main with neverending libations including mimosas, bellinis and spicy Bloody Marys. Main dishes include Italian twists on brunch favorites such as the pasta frittata and risotto with sausage and saffron. (1914 9th St., NW; 202-686-2966)
GBD Fried Chicken and Doughnuts
10 AM–3 PM
Comfort food is always the best hangover food and nothing says comfort like fried chicken and waffles. Choose from entrees such as The Luther (fried brioche doughnut glazed in maple-chicken jus with buttered pecans, slab bacon and fried boneless chicken) or the classic Chicken and Waffles. Don't forget the dipping sauces. There are nine in all, ranging from Frankenbutter (Frank's Red Hot Sauce and butter) to Blooch (rich blue cheese dip). Wash it all down with bottomless mimosas or brunch punch for $15. (1323 Connecticut Ave., NW; 202-524-5210)
Medium Rare
11 AM–4 PM
Don't bother to change out of your PJs and head over to either location of Medium Rare where they'll be hosting their 2nd Annual New Year's Day Pajama Brunch Party. The full brunch menu will be available and for $23, enjoy bottomless Bloody Marys, screwdrivers or mimosas (there's also coffee and orange juice for those with a serious hangover) and your choice of entree including steak frites, egg frites and sausage or their famous benedict. There will be prizes for Best Pajama Matching Family and Most Creative, so start planning your outfit now. (Cleveland Park 3500 Connecticut Ave., NW; 202-237-1432; Capitol Hill 515 8th St., SE; 202-601-7136)
Nage Bistro
11 AM–2:30 PM
Come for the Blurry, Blurry Days brunch with items from the regular brunch menu and specialty cocktails made with….Gatorade. Rehydrate with drinks such as the No Painsville No Gainesville (lemon lime Gatorade Margarita with grenadine) or the See Ya Later Gator (orange Gatorade, vodka, tequila, rum, triple sec and gin). If your body has already magically replenished its fluids or you're not in the mood for Gatorade, bottomless mimosas or Bloody Mary's are $15 per person. (1600 Rhode Island Ave., NW; 202-448-8005)
Tico
11 AM
Roll out of bed and head to Tico for their "Stay in Your Pajamas Disco Brunch." For $37.50, enjoy a bottomless brunch with endless mimosas, Bloody Marys and plates from the Disco Brunch menu including duck confit hash, caramelized banana pancakes and fried chicken with fennel slaw. The highlight of brunch? Throwback disco music playing in the background. (1926 14th St., NW; 202-319-1400)
Photo via Dino's Grotto
Tags:
Beer
,
brunch
,
Cocktails
,
Food
,
Holiday
Recent Articles

Feedback
How are we doing? Tell us what you like or don't like and how we can improve. We would love to hear your thoughts!