Home Away from Home: Bars with Bottle Keep Service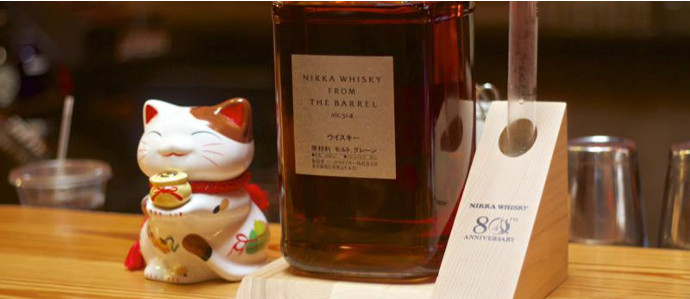 Penn Quarter ramen-house, Daikaya, recently announced an exciting "bottle keep" program at its upstairs izakaya. What is bottle keep? Basically, what it sounds like: the bar will allow patrons to buy and keep their own bottles of booze at the restaurant for up to six months. The customer purchases a bottle of whiskey at a discounted price directly from Daikaya and receives a snazzy label with their name in English and Japanese. Then, the proud owner just shows ID whenever they stop by for a sip. Pretty cool, right?
Bottle keep is actually quite common at many drinking establishments in Japan, where the practice originates. Repeat customers generally store whiskey or shochu, a distilled spirit made with barley, sweet potato, buckwheat or rice. The service is also used as a status symbol by Japanese businessmen who give expensive bottles of liquor to colleagues and clients. If a corporate mogul is looking to dazzle a potential client, breaking out an exclusive bottle of personal spirits is one way to do it.
In a status town like D.C., it should come as no surprise that several high-end restaurants offer bottle keep service. The only difference here is that it's generally for wine. Many a congressional deal has been made over pricey wine in the wood-paneled Capital Grille, which maintains a 10-year long waiting list for requests for a personal "locker." A strict status hierarchy governs the locations of the lockers (lowly hill staffers wouldn't get a spot next to the likes of bottle keep patron, Alex Ovechkin). Morton's and the bar at the swanky Jefferson Hotel also provide bottle keep service, often labeling the bottles with aliases so elite clients remain anonymous.
On the other end of the spectrum, bottle keep can also be a way for barflys to save a few bucks at their favorite watering hole. Shaw dive bar, Ivy & Coney, also offers bottle keep service and their lockers are actually lockers--graffiti-emblazoned ones that remind you of high school. Turns out plenty of industry patrons keep their good stuff stashed there (Eater DC recently took a peek inside), and the service has created a loyal crowd of Ivy and Coney regulars.
Sounds like it's time to start your own stash? Take advantage of Daikaya's promotion for February: for every pour of the "Nikka from the Barrel" whiskey ordered, you'll be entered into a raffle to win a bottle of Nikka Taketsuru, a 21-year-old whiskey valued at $410, and locker at the bar.
Daikaya Izakaya; 705 6th Street NW; 202-589-1600
Photo via Daikaya
Tags:
Cocktails
,
Spirits
Recent Articles

Feedback
How are we doing? Tell us what you like or don't like and how we can improve. We would love to hear your thoughts!