Where to Celebrate Mardi Gras 2015 in Washington, D.C.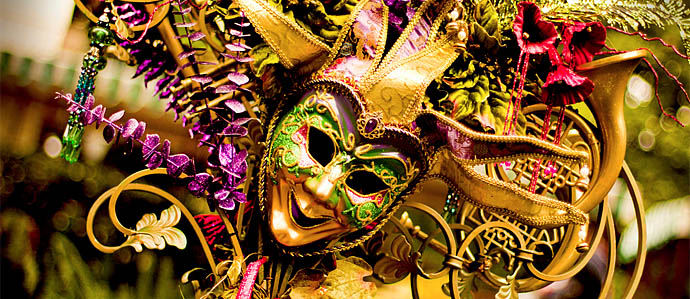 No matter how you look at it, Fat Tuesday is a night of indulgence: eating rich foods, topping it off with even richer desserts and imbibing as many alcoholic beverages as you can handle. The name of the day says it all; it's a time to celebrate and enjoy the finer things in life. From all out mischief that would make Bourbon Street proud, to family friendly block parties, we've got you covered for Fat Tuesday festivities. Let the good times roll, DC!
Acadiana
6–10 PM
For an all out Mardi Gras party, head to Acadiana and enjoy an all you can eat and drink bash. With live jazz playing in the background, feast on everything from mini muffalettas, charbroiled oysters, shrimp and grits, jambalaya and more. Sip on speciality cocktails, beer and wine or mosey over to the bourbon tasting and martini bar for something a little more fancy. Tickets are $100. (901 New York Ave., NW; 202-408-8848)
The name says it all. For a taste of New Orleans, stop by Bayou for their annual Fat Tuesday celebration. For $25, score an all you can eat buffet (5–9 PM) and enjoy live music from Zack Smith & The Dixie Power Trio and The Brass Connection Band (5 PM–Midnight). (2519 Pennsylvania Ave., NW; 202-223-2941)

6–9 PM
A block away from the Clarendon Mardi Gras Parade, David Guas' bakery will be pulling out all the stops for its 4th Annual Bayou Gras Block Party. What's on the menu? Muff-a-lottas, fresh oysters, andouille and shrimp gumbo, pralines and king cake, of course. Enjoy Abita drafts all night long. Kids under 12 eat for free (Mac and Cheese, hot dogs and Abita root beer). Ticket prices range from $15–$30 depending on what kind of Mardi Gras experience you're looking for. (1515 N Courthouse Rd., Arlington; 703-243-2410)

9 PM–Midnight
For a different kind of Fat Tuesday experience, head to Black Jack to catch eight of DC's best cocktail programs duke it out in the inaugural Capital Cocktail Competition. The night's festivities will include representatives from Jack Rose, Cafe Saint Ex, Founding Farmers, Hank's on the Hill, Gypsy Soul, Black Jack/Pearl Dive Oyster Palace, Kapnos and Tico locked in a head-to-head bartending contest featuring a secret ingredient. Specials for the spectators include $2 Abita, hurricanes and hors d'oeuvres from Pearl Dive. Tickets cost $30. (1612 14th St., NW; 202-986-5225)
Central
5–10:30 PM
Central will be offering up a special Mardi Gras a la carte dinner menu including Frog Legs Cajun Style, Crusted Cod Creole and Banana Foster Crepes. While you're dining, enjoy live music from swing Jazz ensemble, Laissez-Foure (7–10 PM). (1001 Pennsylvania Ave., NW; 202-626-0015)
Head to the Zora Neale Hurston-inspired restaurant for their Jazzy Mardi Gras Happy Hour. What you'll get: $4 Abita beers, $18 celebratory entree and king cake. (2121 14th St., NW; 202-332-9672)

Enjoy half-price bottles of wine and extended happy hour specials during the Clarendon parade on Fat Tuesday. Also, all customers get free beads. Happy Hour starts at 4 PM. (2039 Wilson Blvd., Arlington; 703-528-6500)

6:30 PM
Nothing says New Orleans like crawfish, so head over to Woodley Park and sign yourself up for Hot N Juicy's annual crawfish eating contest. It is free to enter, and there will be prizes for first, second and third place finishes. Oh, and did we mention free beer ALL day long? (2651 Connecticut Ave., NW; 202-299-9448)

6 PM–Midnight
Bring your pups to Lou's City Bar for their Mardis Growl, benefitting City Dogs Rescue. A $10 donation will score you Mardis Gras specials all night long, including $6 Hurricanes, $6 Dark & Stormys, $4 Abita Turbo Dogs and $8.95 Gumbo specials. (1400 Irving St., NW; 202-518-56867)

4 PM–Close
Rumors will be hosting their 14th Annual Bourbon Street Bash. Enjoy New Orleans style food including jambalaya, red beans and rice and gumbo. Drink specials for the night: $2 Coors Light bottles, $3 Blue Moon bottles, $4 Three Olives drinks and $5 Kraken Rum hurricanes. There will be a DJ and beads and masks will be handed out to all….although the thought of dancing in Rumors with masks on is slightly terrifying. (1900 M St., NW; 202-466-7378)
Town Tavern
If you're in the mood to party like you're on Bourbon Street, Town Tavern's Mardis Gras Party is the place for you. Specials include two-for-one hurricanes, half-price select bar bites and a progressive special on Bud Light Drafts ($1 from 10–11 PM; $2 from 11 PM–12 AM; $3 from 12–1 AM). Also, the individual who has accumulated the most beads by the end of the night receives a free Town Tavern Beer Tab. Get after it. (2323 18th St., NW; 202-387-8696)
Photo by Danya Henninger
Tags:
Beer
,
Bourbon
,
Cocktails
,
Holiday
,
Parties
Recent Articles

Feedback
How are we doing? Tell us what you like or don't like and how we can improve. We would love to hear your thoughts!