What's Cooking in the DMV: Local Distilleries to Visit This Weekend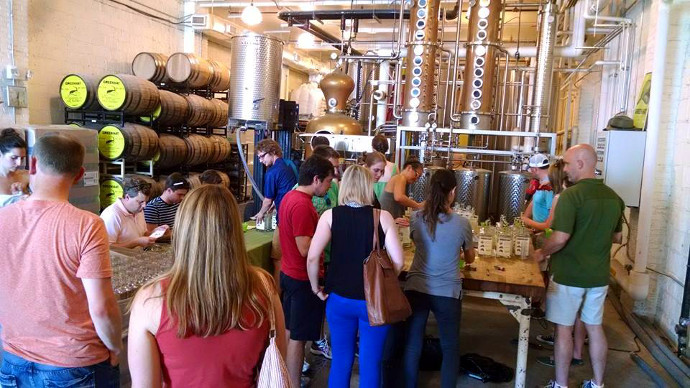 Summertime is an interesting thing. On the one hand, you want to enjoy the sunshine and drink outdoors...on the other hand, it's summertime...in DC. Cue the droves of mosquitoes, humidity that makes your hair stand on end, and living under the threat of scattered thunderstorms every afternoon. Instead of embarking on a losing battle against Mother Nature, get your crew together and head to a distillery. There's been a recent boom in the area, and you really can't go wrong with touring and tasting some of the great spirits being made right here in the DMV.
Located in Kent Island, Blackwater is Maryland's oldest distillery. Its first and most well-known product is the award-winning Sloop Betty Vodka, a wheat based vodka named after a famous ship that once sailed around the Chesapeake Bay. With an initial focus on vodka, Blackwater recently branched out with the launch of its rum line called Picaroon, made from pressed sugarcane juice. You can sample both of these products as well as the Sloop Betty Honey Vodka (Sloop Betty flavored with raw honey) during one of the 45-minute free tours offered Friday through Sunday, 12–4:30 PM. Reservations can be made
online
.
(184 Log Canoe Circle, Stevensville, MD; 443-249-3123)
Loudoun County's first legal distillery since before Prohibition, Catoctin Creek is family-owned and produces a range of spirits including whiskey, gin, and brandy. Since opening its doors in 2009, Catoctin has won numerous awards and accolades, especially for its first product, the Roundstone Rye. If you're in Purcellville, Virginia, stop by the distillery for tours and tastings offered Tuesday–Sunday. Prices range from a free tour to a $15 paired tasting with spirits and chocolate truffles. (120 W Main St., Purcellville, VA; 540-751-8404)
Get a taste of the Amalfi Coast at this distillery focused on Italian liquors. Following in the footsteps of his grandfathers, Francesco Amodeo has brought the family business of creating handcrafted liqueurs to DC. One of the most notable products offered is the all-natural limoncello. You can try the famous limoncello as well as other spirits including the ibisco (hibiscus flavored liquor) and the mandarinetto (made with mandarin orange) at tastings offered on Saturdays from 1–4 PM. (6031 Kansas Ave., NW; 202-957-7792)
The newest distillery to open in DC, One Eight Distilling recently released its latest spirit: Ivy City Gin. In addition to Ivy City, the distillery also produces District Made Vodka and Rock Creek Whiskey. Every Saturday from 1–4 PM, guests can stop by for a tour of the production space which includes a visit to the tasting room for samples. Bonus: They often host pop-ups from local restaurants during tasting and tour hours, with past purveyors including Astro Doughnuts and Fried Chicken and Mason Dixie Biscuit Co. (1135 Okie St., NE; 202-636-6638)
DC's first distillery since Prohibition, New Columbia's signature product is Green Hat Gin, an homage to a famous bootlegger who was famous for wearing said Green Hat. Earlier this year, they added to the liquor shelf with the release of Navy Strength Gin, which (as the name would suggest) is a stronger gin produced at 114 proof. Guests are invited to visit the distillery for free tastings and tours every Saturday from 1–4 PM. You can even sign up to help bottle the gin, although if tastings are involved, we're not sure who's in charge of quality control...(1832 Fenwick St. NE; 202-733-1710)
Photos via New Columbia Distillers and Don Ciccio & Figli
Tags:
Cocktails
,
Spirits
Recent Articles

Feedback
How are we doing? Tell us what you like or don't like and how we can improve. We would love to hear your thoughts!