Drinks Decoded: The French 75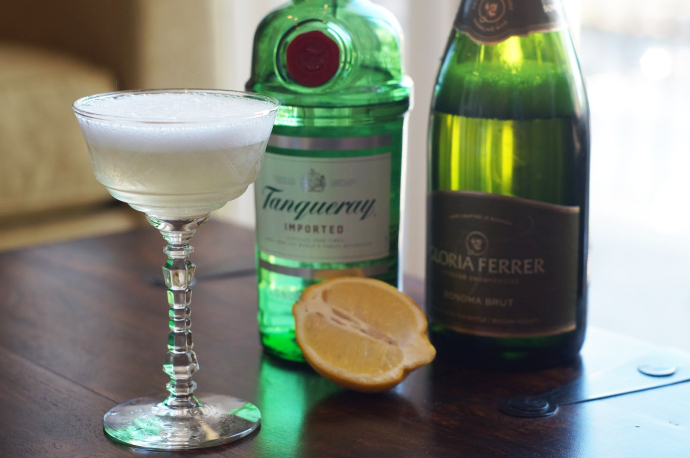 In this series, we take a closer look at well-known cocktails. We get to know the history behind classic drinks as well as where you can find them in the DMV area. This week's Drinks Decoded takes on the French 75.
The Basics
A cocktail made with gin, champagne, lemon juice and sugar, the French 75 is typically served in a champagne flute, garnished with a lemon twist. It can also be made with cognac instead of gin, although there is some debate over which is the best spirit to use. Also known as a 75 Cocktail, some have described the French 75 as a Tom Collins with champagne instead of club soda.

The Backstory
The French 75 dates back to the 1900's to World War I. Popular myth has it that American soldiers on leave were looking for a drink with a little more bang to it than a usual glass of champagne. At their bequest, the cocktail was created and named after the 75 mm field gun…because apparently knocking back a glass of this was a similar feeling to being the target of a French 75. The fact that finishing this drink leaves one feeling hit by heavy artillery is a sign that this drink is not as dainty or gentle as the garnish may make it sound.
Of course, as with all popular myths, there are other stories attributing the creation of this cocktail to some other person at some other bar. One such story claims that Harry McElhone of the New York Bar in Paris was the first to shake up the French 75. Which to believe? Either way, the cocktail became a hit during the Prohibition era and if World War I soldiers approved of it, then it's good by us.
The Bars
It should come as no surprise that two out of the three places we're recommending are French restaurants. Check out our list of the best places to find a great French 75 in the city:

Bernaise
Head to Spike Mendelsohn's modern French bistro in Capitol Hill for their take on the classic French 75. You'll find the Poire 75 on the cocktail menu made with gin, elderflower liqueur, blanc aperitif, pear reduction, and sparkling wine for $12. (315 Pennsylvania Ave., SE; 202-450-4800)
Le Diplomate
The crowning jewel of 14th Street (in our humble opinion), Le Diplomate is the place for a laid back weekend brunch, a fancy date night, or drinks with friends. No matter what the occasion, do yourself a solid and order the Berry 75 with Saint-Vivant Armagnac, lemon, and fresh blackberry sparkling wine. (1601 14th St.; NW; 202-332-3333)
Denson Liquor Bar
The speakeasy-esque cocktail bar located steps from the Verizon Center keeps it simple with the original French 75: gin, sparkling wine, lemon juice, and simple syrup. (600 F St., NW; 202-499-5035)
Photo by The Drink Nation
Tags:
Cocktails
Recent Articles

Feedback
How are we doing? Tell us what you like or don't like and how we can improve. We would love to hear your thoughts!