Drinks Decoded: The Martini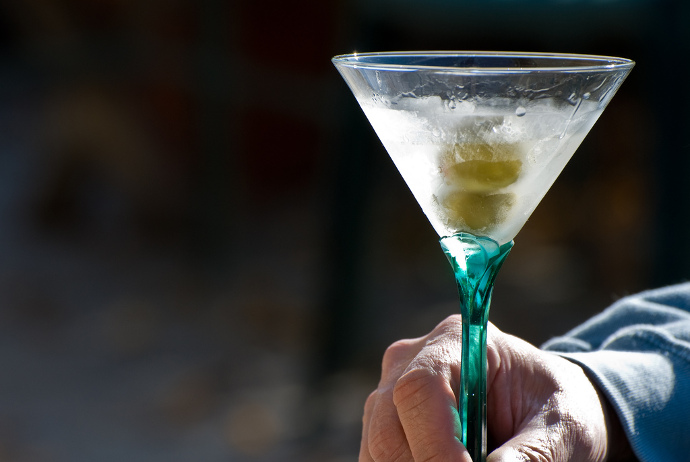 In this series, we take a closer look at well-known cocktails. Get to know the history behind these classic drinks as well as where you can find them in the DMV area. This week's Drinks Decoded takes on the Martini.

The Basics
From Mad Men to James Bond, the Martini has made it through decades and generations as one of the most popular and well-known cocktails. The Martini is made with gin and vermouth, garnished with an olive or lemon twist, and served chilled. There are three main variations: a dry Martini (calls for dry, white vermouth), a dirty Martini (splash of olive juice, garnished with an olive), and a perfect Martini (equal amounts of sweet and dry vermouth). Don't be fooled by imposter cocktails using the guise of a -tini tacked onto the end of it's name (eg: the appletini). The only resemblance they have to a true Martini is the glass they're served in.


The Backstory
The exact origin and history of this cocktail is just about as murky as a dirty Martini (see what we did there?). There are numerous stories dating back to the late 1800's. One purports that the name is derived from an Italian Vermouth maker whose brand name was Martini. Another says that it was invented in Martinez, California during the gold rush, where a miner who struck it rich went to the nearest bar to celebrate with champagne. Instead, the bartender whipped up a drink with what ingredients he had readily available: gin, vermouth, and a slice of lemon, and it's thought that the drink's name stems from the city of Martinez. An additional story suggests that it was first concocted at the Knickerbocker Hotel in New York City in the early 1900's. Whatever the Martini's exact roots are, it grew in popularity during and after Prohibition and then became a staple drink throughout the 1950's and 60's (during which time, the vodka martini became popular). Whether you prefer yours shaken or stirred, the Martini is one of the classics.


The Bars
Mastro's serves up a bevy of Martini variations: Elderflower Martini, Pomegranate Martini, Salted Caramel Martini, Espresso Martini….but you would do well to stick to the basics and order the Mastro Classic made with Belvedere, your choice of blue cheese stuffed olives or caper berries, and a splash of olive juice. (600 13th St., NW; 202-347-1500)

At BLT, the cocktail goes by the Martinez and is concocted with gin, Dolin Rouge, maraschino, and citrus bitters. (1625 I St., NW; 202-689-8999)


Russia House
Deviating from the standard recipe, the Martini's at Russia House consist entirely of vodka with no Vermouth in sight. Try the Mango Martini made with a combination of mango-orange-pineapple vodka infusion, mango puree, raspberry puree, and cream.
(1800 Connecticut Ave., NW; 202-234-9433)
Photo via Flickr user wickenden
Tags:
Cocktails
,
Spirits
Recent Articles

Feedback
How are we doing? Tell us what you like or don't like and how we can improve. We would love to hear your thoughts!