DC Harvest Is Upscale Dining Meets Local Eating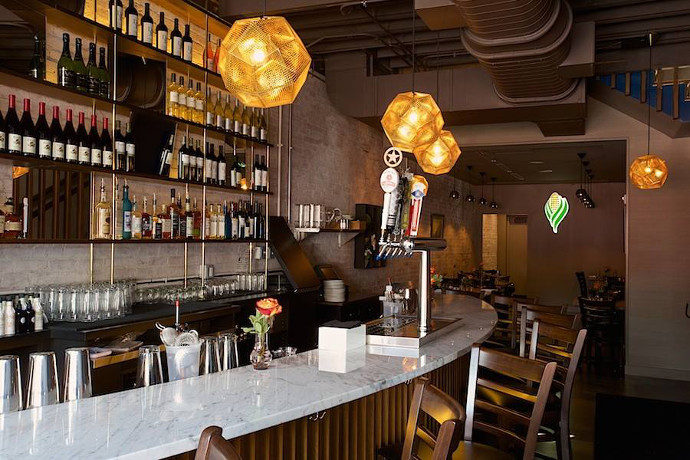 On a cold winter night, there's nothing quite like catching up with one of your girlfriends over a delicious meal. A few weeks ago, my roommate and I made the trek out to H Street to check out DC Harvest. I had heard really great things about the restaurant and was excited to try it out for myself.
Located in a two-story row house, DC Harvest has an inviting atmosphere: exposed brick, petite vases with fresh flowers on wooden tables, and glowing geometric light fixtures all add charm. A plate of pickled vegetables greeted us as we sat down at our table to peruse the menu. Seasonally-based, all of the items are made from ingredients sourced almost entirely from the Chesapeake Bay watershed; it's upscale dining meets eating local.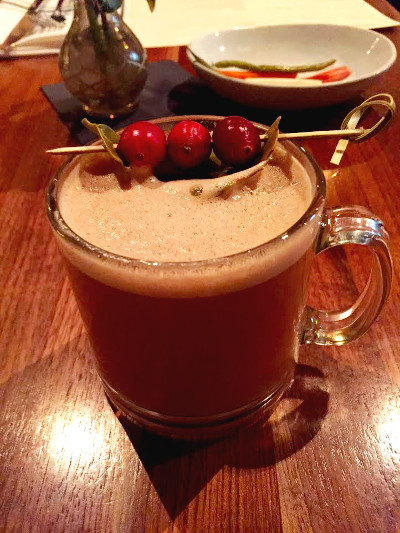 On this chilly evening, I was in the mood for a cocktail with some zip. Lucky for me, one of the drinks on the menu not only had said zip, it was also served warm. The Rufus Buttercake (made with butter-washed Thomas Tew rum, Becherovka, and cinnamon-nutmeg gelato batter) was exactly what I was looking for: warm, comforting, and strong (yes, I'm describing my drink, not my dream man). To start off the meal, we quickly zeroed in on the appetizer special of foie gras, pickled kohlrabi, candied blood orange, and madeira jus served with multigrain toast. A recent contender in the Winter Foie Festival, it was smoky, decadent, and perfectly balanced with the citrus elements on the plate.
Deciding on an entree proved to be a more difficult task. Although the menu is on the smaller side, every item sounded delicious. After much time deliberating, we chose the pan roasted scallops (with heirloom pumpkin, brussel sprouts, shiitake mushrooms, and pumpkin seeds) and the entree special of grilled ribeye cap steak (with yukon gold potato and celery root mash and burgundy demi mash). I always loving getting affirmation once placing my order and after our waiter declared that we had chosen "the perfect meal" I knew that receiving the seal of approval meant we were in for a great dinner. It certainly did not disappoint. The steak was cooked perfectly, the scallops were tender and seasoned well, and all of the accompanying sides were quickly devoured.
Our cheeks were rosy, our bellies were full, our pants were slightly stretched out...we were in food heaven. And then the dessert menu came out and we were in a conundrum. Stuffed to the brim, dessert was not in the cards tonight...or so we thought. Our server tried his best at coaxing and tempting us with the items like the highly recommended s'more chocolate pot du creme and the blood orange creamsicle, but we firmly held our ground. Our firm "no, thank you" brought us two servings of "Cherry on Top," an Ivy City Gin cherry gel sour that was essentially a gussied up jello shot. Never one to turn down jello shots, we happily obliged.
Everything from the cocktails and delicious meal, to the friendly and engaging staff was on point. I don't think I would change one thing about the evening...except for making room for dessert. Next time I return to DC Harvest, I'll be sure to learn from my mistake. S'more pot du creme, I'm looking at you.
DC Harvest, 517 H St. NE; 202-629-3296
Top photo via DC Harvest; Rufus Buttercake photo by Lanna Nguyen
Tags:
Cocktails
,
Food
Recent Articles

Feedback
How are we doing? Tell us what you like or don't like and how we can improve. We would love to hear your thoughts!