Drinks Decoded: Sazerac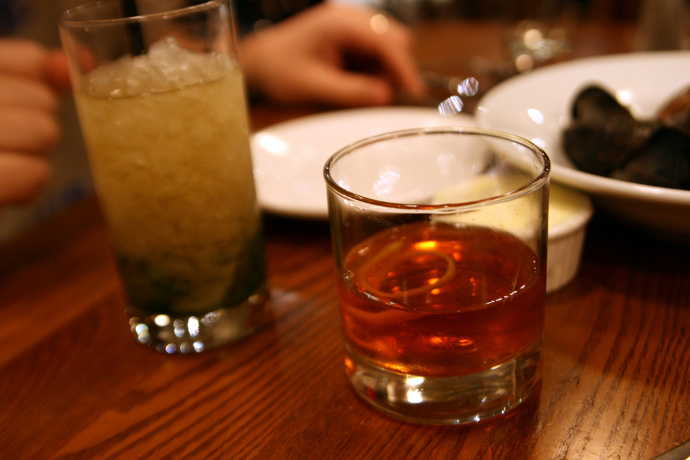 In this series, we take a closer look at well-known cocktails. Get to know the history behind these classic drinks as well as where you can find them in the DMV area. This week's Drinks Decoded takes on the Sazerac.
The Basics
New Orleans is famous for its food and drink history...as well as infamous (think Mardi Gras). Perhaps the city's biggest claim to fame is being the birthplace of what some recognize as America's oldest cocktail. The official state cocktail of Louisiana, the Sazerac is made with cognac or whiskey, absinthe, sugar, and Peychaud's bitters. The drink's preparation calls for the use of two chilled old-fashioned glasses: one to swirl the absinthe in and the other to mix the remaining ingredients. It is said to be the first branded cocktail, as the original recipe lists the Sazerac de Forge et Fils cognac brand as an ingredient.

The Background
The cocktail dates back to the mid 1800s, when the cognac brand Sazerac de Forge et Fils was first brought to New Orleans. Local bar, Sazerac Coffee House, began using it in a cocktail aptly named: the Sazerac Cocktail. The story goes that the bitters used in this cocktail were sourced from an apothecary down the road owned by the Antoine Peychaud himself. A couple decades after the drink was first introduced, rye whiskey was substituted in for the cognac due to a pest epidemic that was wreaking havoc in France, which is why some recipes today can call for rye while others call for the original cognac. Unfortunately, this isn't the only ingredient that required a substitution; when absinthe was banned, bartenders had to replace it with other anise-flavored liqueurs, the most popular being Herbsaint. The Sazerac is recognized as the official cocktail for both the city of New Orleans and the state of Louisiana.
The Bars
Acadiana
The Louisiana-style fish house's version of the Sazerac combines Old Overholt Rye, Herbsaint, simple syrup, Peychaud's bitters, Gibson's orange bitters, and Orleans rye bitters. (901 New York Ave, NW; 202-408-8848)
Barrel
Head to Capitol Hill and order Barrel's version of the Sazerac: De La Louisiane made with Old Overholt Rye, Dolin Rouge, Benedictine, bitters and absinthe. (613 Pennsylvania Ave, SE; 202-543-3622)
Bayou
The New Orleans-inspired restaurant and bar is known for its live music and for throwing one of the best Mardi Gras parties in town, but you don't have to wait for Fat Tuesday to order up the classic Nola cocktail. Here, Sazeracs are made with Bulleit Rye, simple syrup, Peychaud's bitters in a Vieux Carre' absinthe-rinsed glass. (2519 Pennsylvania Ave, NW; 202-223-6941)
Photo via Flickr user quinn.anya
Tags:
Cocktails
Recent Articles

Feedback
How are we doing? Tell us what you like or don't like and how we can improve. We would love to hear your thoughts!