What to Expect to Drink at Mike Isabella's Kapnos & G, Coming in 2013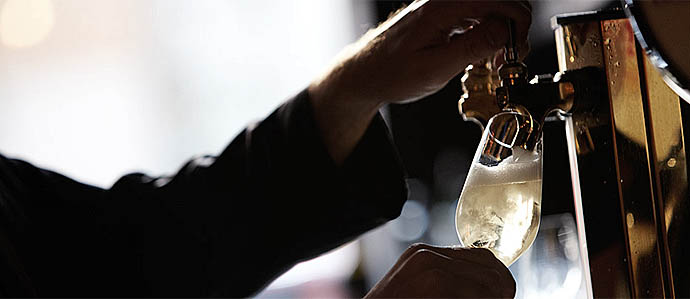 Chef Mike Isabella has just announced he's adding not one, but two new restaurants to his growing flock, and we've got some details on the forthcoming beverage programs. Sister restaurants Kapnos and G will be located side-by-side on the corner of 14th and W Streets NW, and are slated to open in 2013.

"Graffiato opened in 2011. Bandolero will open in 2012. So it'll be perfect to launch two more in 2013 – everything is spaced out well," he told us, in answer to our query about his profusion of new projects, adding, "It was a matter of two really great locations just popping up. It didn't make sense to pass on them."

Kapnos will be the Greek restaurant Isabella has always wanted, building off his experience at Jose Andres' Zaytinya, and will feature whole animals roasted on a spit (the name translates as "smoke"). The bar will open at noon and stay open throughout the day, as it will also serve G, next door – a dual-personality space that will offer grab-and-go soups and sandwiches for lunch and then transform into a sit-down restaurant at night, offering a four-course Italian prix-fixe tasting menu.

A research trip to Greece and Italy is slated for this July, during which time Isabella and team will seek out the best sips the Mediterranean has to offer. A wine list put together by James Horn (general manager at Bandolero) will include several Greek vintages, complementing a slate of Italian and American offerings.

The signature prosecco on tap will make an appearance, along with half a dozen other drafts. Plans include at least one freshly poured Italian craft, but Isabella stresses he plans to stock the taps mostly with local brews, such as DC Brau, in support of the D.C. community. To accompany the daytime menu of G (which will be offered through 5 PM), he is aiming to obtain a retail license for bottled and canned alcohol to go. "Imagine dropping by and picking up a great chicken parm sandwich with a couple cans of Sofia Coppola Blanc de Blancs," he muses.

Cocktails will be developed by Taha Ismail, the mixologist behind the creative drinks currently at Graffiato, and for Kapnos will feature riffs on the traditional Greek liquors of ouzo and Metaxa. "Instead of doing 'Greek cocktails,'" Isabella explains, "we'll look at the flavors, fruits and spirits of the region and come up with our own concoctions."

Those recipes will also make appearances at G during dinner. Although the tasting menus will be set, patrons will be able to choose from three different pairing options to accompany their four courses: wine, beer or cocktails. And while the menu is prix-fixe, don't call G a fine-dining establishment. "It's much more relaxed than that," the chef stresses, "We'll price the meal at around $40, and the beverage pairings will be in the teens. You'll be able to have a fantastic experience for $58 or less."

So don't worry about starting an Isabella savings fund just yet. But do start salivating.
Recent Articles

Feedback
How are we doing? Tell us what you like or don't like and how we can improve. We would love to hear your thoughts!