Cool Down: D.C. Bars with Great Air Conditioning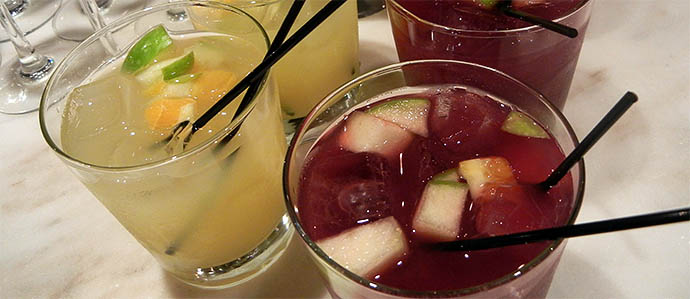 There's nothing worse than a heat wave that dampens (literally) your will to hit the town. In a swamp like this, it's all too possible to spend a night sweating more than you can drink — unless you choose the right venue. Behold: a collection of Drink DC-tested, certifiably cool locales to enjoy libations when the temperature rises.
Edgar Bar & Kitchen: Eliot Spitzer wouldn't be caught sweating into his martini and neither should you — stay cool at The Mayflower hotel's revamped bar (1127 Connecticut Ave. NW; 202-347-2233).
Oyamel: Cool off with a tequila flight or a pitcher of the house pomegranate margarita (401 7th St NW; 202-628-1005).
The Brixton: They keep the air pumping at this British-inspired pub, where overhead fans also keep things cool on the roofdeck (901 U St NW; 202-560-5045).
The Queen Vic: Catch a soccer (err, football) game and a brew from the comfort of the air-conditioned indoors (1206 H St NE; 202-396-2001).
Teddy & The Bully Bar: Roosevelt didn't get to enjoy the benefits of air conditioning during his tenure in the White House, but you can while toasting our 26th President with a glass of punch (1200 19th St. NW; 202-872-8700).
Kapnos: The air is well-circulated at the sizable bar inside Mike Isabella's Greek spot, which also serves refreshing kegged lemonade in three flavors (2201 14th St. NW; 202-234-5000).
Urbana: This basement bar inspired by the Mediterranean coast offers a cool reprieve with old world wines and cocktails made with Italian liqueurs (2121 P Street NW; 202-956-6650).
Dickson Wine Bar: The three-story layout here manages to feel intimate without ever being body-to-body hot: Grab a seat and revel in the A/C with a glass of biodynamic white (903 U St NW; 202-332-1779).

Boqueria: With wall-to-wall windows, you can still enjoy views of the summer sun but from a breezy barstool with the sangria du jour (1837 M Street NW; 202-558-9545).

Napoleon: The Adams Morgan bar scene can feel like one giant sweat fest, but you can cool your heels at this Chamapagne bar just off the strip (1847 Columbia Rd NW; 202-299-9630).

Churchkey: Spend an afternoon working your way through the joint's 555 beers and gourmet bar food menu — this dark and chilled beer bar is the ideal locale on hot days and nights (1337 14th St. NW; 202-567-2576).

Local 16: The roomy downstairs bar stays cool enough to still look good in the heat, and a jumbo-sized fan and overhead misters keep things breezy on the upstairs roofdeck (1602 U St. NW; 202-265-2828).
Photo: sangria at Boqueria by Lauren Sloat
Recent Articles

Feedback
How are we doing? Tell us what you like or don't like and how we can improve. We would love to hear your thoughts!