D.C. Beer Week Guide: 10 Don't Miss Events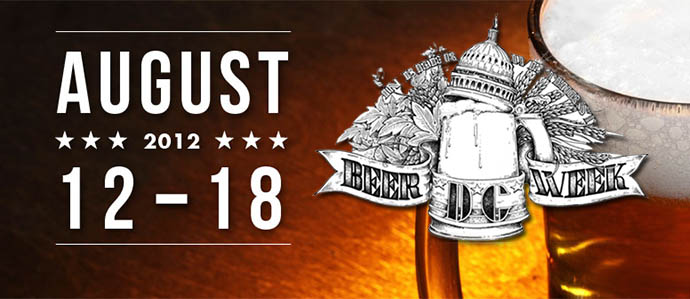 There are many things that go well with beer: live music, cheese, tacos, more beer. Get your fill of all these and more by celebrating D.C.'s craft beer scene during the fourth annual D.C. Beer Week, August 12–18. From tap takeovers to pairings and limited release brews, there has never been a better way to get through the most brutal week of summer. Below, a roundup of where we'll be cooling off with a pint.

(Unless otherwise noted, all events are pay as you go.)

Italian Craft Beer Tasting
2:30–4:30 PM, Sunday, August 12
Maple (3418 11th St. NW)
This newish Columbia Heights bar is truly a gem in the wall. Kick of Beer Week with a tasting of craft brews from Italy, Maple's inspiration. Make a reservation for the $40 experience, which includes antipasti and tastings of seven Italian beers not commonly found stateside.

DC Beer Week Craft Beer & Dinner Odyssey Cruise
6–9 PM, Sunday, August 12
Odyssey docks at the Gangplank Marina (6th and Water streets, SW)
The ultimate D.C. Beer Week event, $125 gets you a dinner buffet, DJ, and unlimited tastings of more than 40 craft beers, including local brews from Capital City Brewing Co., Chocolate City, DC Brau and Flying Dog. Tickets are going fast.

The Debut of Solidarity Saison
6 PM, Monday, August 13
ChurchKey (1337 14th St. NW)
You can't celebrate Beer Week without sipping the official DC Beer Week Craft Beer Blend, an all-star mashup of seven locally-brewed Saisons from the likes of 3 Stars, Capital City, Chocolate City, DC Brau, The District Chophouse, Gordon Biersch and Mad Fox, available only this week at six area locations, including Meridian Pint.
Cheese & Oxbow Beer
6:30 PM, Monday, August 13
Meridian Pint (3400 11th St. NW)
There are two things we can't get enough of in this life: beer, and cheese. Enjoy copious amounts of both with five pairings hand selected by Tim Adams (cofounder and head brewer at Maine's Oxbow Brewing Company) and Tim Prendergast (Meridian Pint's assistant beer director). The $45 ticket includes artisanal cheeses paired with two pale ales, two saisons, a Belgian stout and Oxbow's Space Cowboy Country Ale.

Smuttynose Draft & Cask Takeover
6 PM, Tuesday, August 14
ChurchKey (1337 14th St. NW)
Sample 20 different beers (priced individually in either a 4-oz. taster or full glass) from this top New Hampshire craft brewery and meet brewmaster Dave Yarrington.

Chouffe Little Man Big Mouth Taco Takedown
10 PM, Tuesday, August 14
Smoke & Barrel (2471 18th St. NW)
Think you can out-eat a beer gnome? Compete to win a $25 Smoke & Barrel gift card or — the grand prize — three free tacos every Tuesday for a year (say that three times fast!), in a taco eating contest sponsored by Belgium's Brasserie D'Achouffe. Glasses of Chouffe are just $6 from 10 PM–close.

Meet the Brewer/Steal the Pint
5­–8 PM, Wednesday, August 15
Port City Brewing Company (3950 Wheeler Ave., Alexandria)
Ever wonder how Port City packs so many complex notes into its Monumental IPA? Now's your chance to interrogate head brewer Jonathan Reeves on Optimal Wit and more; you can also snag a free pint glass in the glassware giveaway.

Ommegang Tap Takeover with Vegetarian Beer Pairings
5 PM, Thursday, August 16
Meridian Pint (3400 11th St. NW)
Celebrate Beer Week and vegetarianism at the vegan/veg-friendly Columbia Heights bar, which will host a tap takeover with 13 beers from New York's Brewery Ommegang. Executive chef David Shewmaker is whipping up six mini veg dishes for the occasion, with which you'll receive a free 4-oz. Ommegang draft.

Justin Trawick Live!
5–8 PM, Thursday, August 16
Port City Brewing Company (3950 Wheeler Ave., Alexandria)
Enjoy a side of mellow tunes with that craft beer when local singer-songwriter Justin Trawick provides the soundtrack in the PCBC Tasting Room.

Bluejacket & DC Brau Collaboration Debut
6 PM, Friday, August 17
ChurchKey (1337 14th St. NW)
Prior to the 2013 opening of the forthcoming Bluejacket brewery from Neighborhood Restaurant Group, brewmasters Megan Parisi and Greg Engert are making a splash with small batch collaborations with top craft breweries around the country. Don't miss this one with DC Brau — other Brau rarities will also be available on cask and on draft.
Recent Articles

Feedback
How are we doing? Tell us what you like or don't like and how we can improve. We would love to hear your thoughts!