Cast Your Cocktail Vote Around the District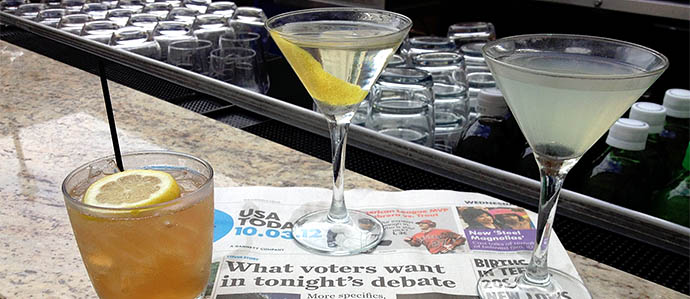 Washingtonians love their adult beverages, so it's no surprise that election season has spawned Obama and Romney-themed libations — not to mention cocktail voting contests — around the District. Will D.C.'s choice between red and blue cocktails predict what's to come on Nov. 6? Only time and bar tabs will tell!

District Commons: An ode to the island-born POTUS, the Blue Hawaiian at this newish Foggy Bottom spot combines El Dorado Rum and Blue Curacao with pineapple juice and an orange twist. Leaning right? Choose the "Mitt" Julep with Bulleit bourbon and mint simple syrup — just choose wisely: District Commons and all of Passion Food Hospitality's ventures are keeping tally (2200 Pennsylvania Ave. NW; 202-587-8277).

Bar Dupont: You don't have to be on Capitol Hill to get political over cosmopolitans; this swanky Dupont Circle bar is featuring the classic cocktail in traditional form as the Grand Ole Punch and with Blue Curacao as Drink it Forward (1500 New Hampshire Ave. NW; 202-797-0169). Early reports show Oabama's bevvie leading three-to-one.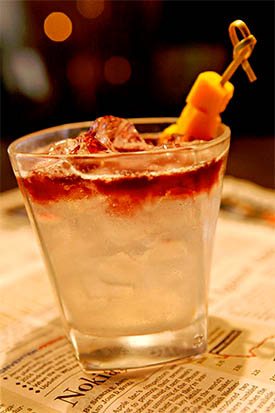 Art and Soul: Art Smith's Capitol Hill eatery is featuring eight different Swing State Cocktails ($13) through January 31. We're intrigued by the especially seasonal Patriot (New Hampshire's bevvie — pumpkin puree with bourbon and lemon/lime syrup), the Peanut Butter Buckeye (Ohio — vodka, peanut butter syrup and chocolate powder rim) and the Meat and Potato (Iowa), which includes house oaked vodka and candied bacon. Wear your "I voted" sticker to the bar on Nov. 6 and enjoy one free swing state cocktail when you purchase the first (415 New Jersey Ave. Nw; 202-393-7777).

Poste Moderne Brasserie: Even independents get their own cocktail at Poste, where head bartender Jason Wiles has created three special beverages for election season. The $14 Bi-Partisan Martini (which calls for, appropriately, "equal parts of everything") features Plymouth gin and Dolin Blanc vermouth with dashes of orange and lemon bitters. A Blue State of Mind ($12) will delight Dems with St. Germain, Bluecoat gin, lime juice and rosemary, while the Tea Partier ($12) is a rum-spiked citrus and chamomile tea. All three are available for just $10 on election day, when the bar will be open until 1 a.m. with happy hour specials available all day (555 8th St. NW; 202-783-6060).

The Mayflower Hotel: This classic Dupont hotel is staying politically correct with a collection of new "Political Harmony" cocktails. Order up the Punching Gnomes (Jim Beam's cinnamon-spiced Red Stag bourbon with sweet vermouth, lemon juice and Prosecco) the Scallywagger (Maker's Mark, pomegranate liqueur, maple syrup and citrus wedges), or the Filibuster (Knob Creek, Campari and sweet Vermouth) while people-watching in the lobby for famous (and infamous) faces (1127 Connecticut Ave. Nw; 202-347-3000).

Topaz Bar: Theodore Roosevelt's home once stood where the Topaz Hotel is today, so it's fitting that the bar is featuring two official 2012 Campaign Cocktails. The Romney Float ($5) is an appropriately non-alcoholic (but still spike-able) concoction of Old Dominion root beer and whipped heavy cream with a "salted lake" (get it?!) caramel drizzle, while Obama's Home Sweet Home ($9) adds a Hawaiian spin on D.C.'s native cocktail, the Rickey, with a splash of pineapple.

Lincoln: As of this post, the Elephant (a red libation made with rhubarb-infused whiskey, homemade strawberry liquor, lime juice and bitters) is leading Lincoln's Cocktail Voter Poll. Cast your vote with this or the opposing Donkey cocktail (blackberry-infused gin, ginger syrup, lime juice and bitters) through election day (1110 Vermont Ave. NW; 202-386-9200).

Daily Grill: Fresh off a bar makeover, the Daily Grill is featuring a drinking poll of its own. Orders of Chicago's Goose Island beer count toward Obama, while pints of Boston's Sam Adams equal votes for Romney. Enjoy a special price on both — just $5 — through the election.
Top: Election drinks at Poste; Bottom: Wisconsin Swing State Cocktail at Art and Soul
Recent Articles

Feedback
How are we doing? Tell us what you like or don't like and how we can improve. We would love to hear your thoughts!