Not Your Grandpappy's Hooch: Belle Isle Craft Spirits Brings Moonshine Out of the Shadows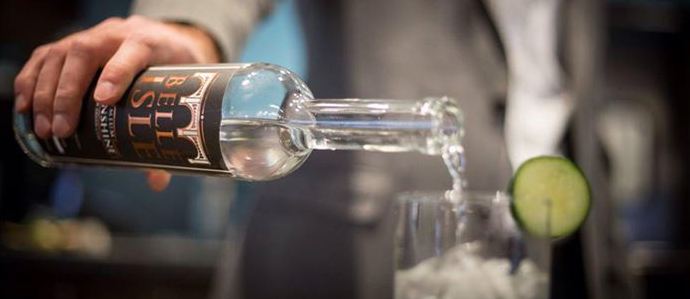 The craft brewing industry is by now well-established, and after the recent explosion of craft distilleries brought every imaginable type of spirit to the market, you might think we had reached peak liquor creativity. You would be wrong. A new generation of enthusiastic distillers is now making fancy what was once the most unrefined kind of alcohol: moonshine. We were lucky enough to get to sample some of new Virginia startup Belle Isle Craft Spirits' copper kettle-distilled moonshine at Circa in Dupont, and it's safe to say this is not the bathtub gin of yesteryear.

Moonshine, an un-aged white whiskey generally made by distilling corn mash, is usually associated with Prohibition-era smugglers and illicit distilling in the foothills of the Appalachian Mountains. Moonshine is a high-proof spirit defined by secrecy – either created to evade taxation or to skirt outright bans on the sale of alcohol, and it was known for its harsh taste and occasional hazards. Without regulations, moonshine-makers would often cut the whiskey with dangerous ingredients to increase volume and a contaminated batch of moonshine could poison or kill its imbiber.

Fortunately, those days are long behind us and moonshine has entered the world of premium liquors. Belle Isle's moonshine is a super smooth spirit that drinks like a high-end vodka—tasty enough for sipping alone, but perfect for cocktails. Circa designed four different summery cocktails to showcase the 'shine, including the martini-like Monk on Moonshine, and my personal favorite, Moonshine Punch. The punch is the perfect summer sipper—the moonshine blends seamlessly with fresh berries, lemon juice and a house-made cinnamon syrup.

The possibilities are endless for mixing – check out some of Belle Isle's recipes below. And if anyone needs me, I'll be sipping my Moonshine Punch on my porch with friends – no need to enjoy this tasty spirit in secret anymore.
The Belle Isle 75
1.5 oz. Belle Isle Premium Moonshine
0.75 oz. fresh lemon
0.75 oz. spiced simple syrup (equal parts sugar and water boiled with cinnamon, clove and star anise)
3 oz. Brut Rosé
Build all but the brut in a shaker, add ice and shake. Strain into chilled Collins glass filled with fresh ice, then add brut to fill. Garnish with a twist of lemon.
The Road Not Taken
1.5 oz. Belle Isle Premium Moonshine
2 dashes orange bitters
0.5 oz. orange curacao (Grand Marnier, Gran Gala)
0.5 oz. Sweet Vermouth (Cocchi vermouth di Torino)
0.75 oz. Cocchi Americano
Add all ingredients over ice into a cocktail shaker. Shake vigorously and pour into a small mason jar or collins glass. Garnish with a lemon.
Ruby Red Lemonade
2 oz. Belle Isle Premium Moonshine
2 oz. fresh squeezed ruby red grapefruit juice
1 oz. fresh squeezed lemon juice
1 tbs. sugar
Add all ingredients over ice into a cocktail shaker. Shake vigorously and pour into a small mason jar or collins glass. Garnish with a lemon.
You can find Belle Isle in the District at Circa Dupont, Circa Foggy Bottom, Acqua al 2, Central Michel Richard's, Black Jack and Penn Commons.
Photo: Belle Isle Craft Spirits
Tags:
Bourbon
,
Cocktails
,
Spirits
,
Whiskey
Recent Articles

Feedback
How are we doing? Tell us what you like or don't like and how we can improve. We would love to hear your thoughts!