D.C.'s Best Margaritas and Where to Find Them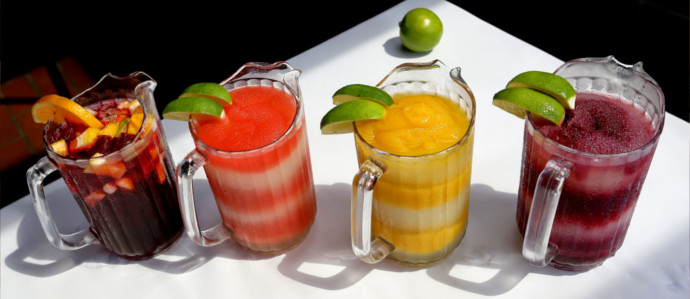 National Margarita Day is right around the corner, and although we'd prefer to be sipping on our margs while lounging on a sunny rooftop or patio, we'll have to settle on the indoors wishing for the warmer weather to arrive. Whether you like them frozen or on the rocks, salt rim or without, spicy or fruity, here's our extensive guide to margaritas in the city.

This Mexican restaurant, located in Georgetown, has seven different variations of margaritas on their cocktail menu. For something with a little spice, try the Casa En Fuego with habanero infused tequila, Patron Citronge, strawberry and lime. Come during "Bandido Hour" (Monday–Thursday, 3–7 PM; Friday, 11 AM–7 PM) and score the Clasico Margarita for $6, among other food and drink specials. (3241 M St., NW; 202-625-4488)
The self-described "Latin Kitchen + Taqueria" on H Street serves up four frozen margarita flavors including Premium, Blue Curacao Swirl, Sangria Swirl and Beerita. Stop by for their daily happy hours (Monday–Friday, 4–6:30 PM; Saturday–Sunday, 1–3:30PM; Everyday 10 PM–Close) and take $2 off of all margaritas. (822 H St., NE; 202-505-4628)
With locations at 14th Street and Georgetown, Richard Sandoval's El Centro has unique margarita options including the Spicy Mango with serrano infused blanco and the Yucatan with tamarind and chili infusions. The daily happy hour specials (4–7 PM) include the El Centro Margarita and the House Infused Margarita for $5 each.
(14th St: 1819 14th St., NW; 202-328-3131; Georgetown: 1218 Wisconsin Ave., NW; 202-333-4100)
Craving a margarita, but not looking to spend a lot? Head to El Tamarindo's happy hour Monday–Friday from 4–8 PM to get an Original Margarita for just $3.50. Fruit flavored margaritas (strawberry, mango, passion fruit, tamarind) will put you back $4.50. (1785 Florida Ave., NW; 202-328-3660)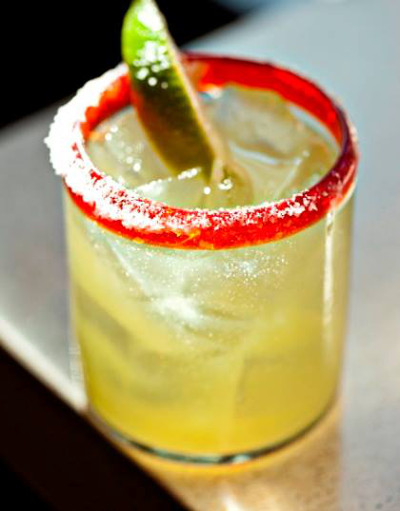 If you're in the Clarendon area, stop by Fuego and try the newest drink on their cocktail menu: the Barrel Aged "Margarita" with El Mayor Blanco, hangar lime, Damiana Liqueur, Tuaca and tamarind-chili-lime bitters. The Frozen Hibiscus is another interesting option, made with tequila gold, Triple Sec, fresh lime juice, agave nectar and hibiscus. All margaritas can be ordered as "regular", "goblet", or "un litro"….clearly, you need the un litro.
(2800 Clarendon Blvd., Arlington; 571-970-2180)
A recent addition to Adams Morgan, Johnny Pistola keeps it simple with the margarita options. Choose from three variations: House Margarita, Margarita Classico or the Blood Orange Jalapeno Margarita. They've got a great happy hour with tacos for $1 (Monday, Wednesday, Thursday and Friday; 5–7 PM) and margaritas for $4. Run there now! (2333 18th St., NW; 202-817-3255)
You can't do a margarita roundup and not include Lauriol Plaza, infamous for their frozen swirl margaritas. Flavors include lime, strawberry, mango, peach or swirl, and all can be ordered by the glass or pitcher. On Mondays, enjoy half-price pitchers of any flavor margarita, anytime of the day. (1835 18th St., NW; 202-387-0035)
You'll find the classic margarita at Todd Gray's MXDC, but you'll also find intriguing flavors like the Maple Margarita and the Margarita De Pina with house-made roasted pineapple syrup. If you're a high roller, be our guest and try the Millionaire Margarita with Don Julio 1942, Grand Marnier 100, agave and fresh lime. It will only set you back $40 a glass…chump change. (600 14th St., NW; 202-393-1900)
Mission's cocktail menu offers interesting takes on the classic margarita. If you're looking to drink but don't want to fully indulge in all the calories that it comes with, the Skinny Margarita was made for you, coming in at only 180 calories. Craving something non-traditional? Order the Champarita with champagne, El Jimador Agave Tequila, fresh lemon sour and strawberry simple syrup. Grab a Mission Margarita during happy hour (daily, 5–7 PM) for $6.50 a glass (on the rocks or frozen) and $20 for a pitcher. (1606 20th St., NW; 202-525-2010)
Okay, so a sushi restaurant probably wouldn't be your first place of choice if you're on the hunt for a margarita, but Oya's Passion Fruit Margarita deserves a mention on this list. With passion fruit puree and habanero syrup, there's just the right amount of kick and spice to this margarita. Come during happy hour (Monday–Friday, 5–8 PM) and snag a glass for $8. (777 9th St., NW; 202-393-1400)
Jose Andres' Penn Quarter, Mexican-inspired restaurant is home to one of D.C.'s most popular margaritas, the aptly named "Oyamel." Made with Milagro blanco, Combier L'Original and fresh lime juice, it's topped with "salt air"-- a light foam that is a playful take on the traditional salted rim. (401 7th St., NW; 202-628-1005)

Rosa Mexicano
Another margarita-staple in D.C., Rosa Mexicano offers 11 different flavors, including the Rosalita "Skinny" Margarita and an organic take called La Organica, made with Casa Noble organic blanco.
(575 7th St., NW; 202-783-5522)
Tags:
Cocktails
,
Holiday
,
Spirits
,
Tequila
Recent Articles

Feedback
How are we doing? Tell us what you like or don't like and how we can improve. We would love to hear your thoughts!